News from Unexpected Wildlife Refuge
July 2018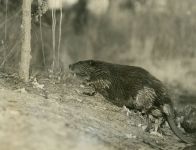 19th: Throwback to 1967. Immortalized as Nipper by Hope Sawyer Buyukmihci, our co-founder, this beaver was determined to make the small tree her or his next meal.
#tbt #ThrowbackThursday #UWRHistory #beavers
---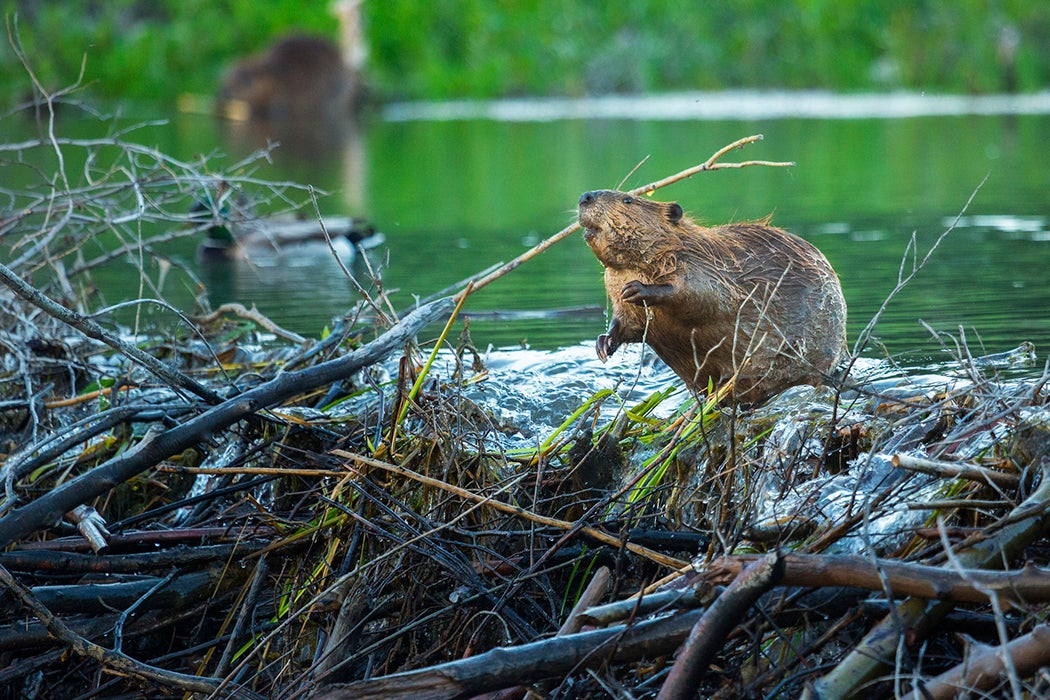 18th: Not that we need convincing, but here are two more articles on why beavers are a keystone species, making the world a better place for all:
---
16th: One of the challenges with which the Refuge deals regularly is maintaining trails in a way that causes minimal disruption for wildlife. We need access to certain parts of the habitat in order to protect from unwanted human intrusion and to provide visitors with an opportunity to see, enjoy and be educated by the rich biodiversity present. Nature, of course, cares not and quickly 'tries' to subsume our trails into what is normal. Here, a portion of one major trail has become flooded and partially obstructed by a large pine tree that has fallen. Photo courtesy Dave Sauder, one of our Trustees.
---
13th: Unexpected Wildlife Refuge supports an end to hunting bears in New Jersey. During his campaign, Governor Phil Murphy made a promise to impose a moratorium on bear hunting when he took office in January 2018, and to commit to exploring non-lethal means of controlling the bear population. This has not happened. We join the Animal Protection League of New Jersey (APLNJ) in its call to Governor Murphy to honor his promise as well as asking the NJ legislature to adopt a bill sponsored by Sen. Raymond Lesniak, D-Union, that would impose a five-year moratorium on bear hunting. The bill also requires bear-proof containers and stops hunters from baiting for deer in bear habitat.

Bears are a critical part of our ecosystem, the only large predator in the state of New Jersey. Further, hunting them inflicts substantial suffering on these sentient animals. Currently, hunters can bait and shoot all bears including mothers and their cubs; incredibly, even bows and arrows are allowed. Not only is this brutal treatment of bears unacceptable, there are alternative, humane and effective methods that can be adopted to address human-bear conflicts, the purported reason for the hunt. For example, the Bear Smart program (managed by APLNJ) includes public education, appropriate garbage containment, enforcement of feeding ban laws and training for police officers and wildlife personnel.

Please take three actions today:
Contact Governor Murphy, urging him to honor his promise:
Contact your NJ legislator, calling on her or him to support the bill (S-2702) sponsored by Sen. Raymond Lesniak:
If you do not know who your legislators are, contact:

League of Women Voters of New Jersey: 800.792.8683 or 609.394.3303
Sign this petition launched by Bear Education And Resource (a program of APLNJ) to end the New Jersey bear hunt: https://petitions.moveon.org/sign/end-the-new-jersey-bear
---
12th: Throwback to February 2017, and this food 'raft' created by some of the beavers who live at the Refuge. These collections of branches provide a safe and convenient source of food until spring.
#tbt #ThrowbackThursday #UWRHistory #beavers
---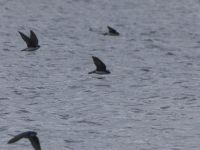 9th: We are fortunate that many species of birds choose the Refuge as their home or an important 'pit stop' on their way elsewhere. Here, swallows fly over the main pond in search of insects.
---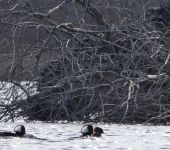 5th: Throwback to late last spring (2017). We often see hooded mergansers on the main pond. These individuals were on the far side, swimming near one of the beaver lodges.
#tbt #ThrowbackThursday #UWRHistory
---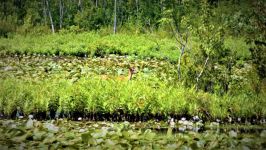 2nd: With the warm weather and precipitation, the main pond has become an oasis of lily pads. Here, a white-tailed deer cools off and browses at the same time.
---
June 2018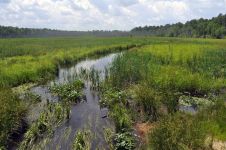 28th: Throwback to June of eight years ago, to this picturesque photo of Miller pond, one of the many important wetlands at the Refuge. Protecting these areas from untoward human intrusion is our goal and passion.
#tbt #ThrowbackThursday #UWRHistory
---
25th: One of our trail cameras took a great photo of this alert gray squirrel. Although these squirrels are 'common', it is always a treat to see them.
---
24th: We are pleased to announce that we have hired Jared White as the new onsite manager for the Refuge! Jared, shown here with Jack, one of his canine companions, is a long-time vegan and animal advocate. He comes to us with years of experience working with and caring for rescued non-human animals. His "love of the outdoors and co-existing in nature with wildlife" fit in with Unexpected's mission and core philosophy. In addition to looking forward to the physical challenges of managing the Refuge, Jared is eager to apply his skills in public relations and volunteer organizing to ensure that the wildlife continue to have a safe place to thrive consistent with their needs. You can reach him by telephone at 856.697.3541 or E-mail manager@unexpectedwildliferefuge.org.
---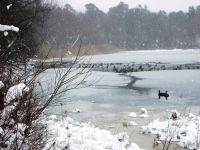 21st: Throwback to 2009, during a November winter storm. These Canada geese seem unperturbed by the falling snow and freezing water in the main pond.
#tbt #ThrowbackThursday #UWRHistory
---
18th: Fungi and other 'parasitic' plants make up an important -- and visually pleasing -- part of the rich biodiversity at the Refuge. Here are some amber jelly and lichen getting their sustenance from an old branch in a swampy part of the Refuge.
---
14th: Here is a sketch of a canvasback duck made many years ago by Edmund J. Sawyer, the renowned naturalist and artist and father of Hope Sawyer Buyukmihci, our co-founder.
#tbt #ThrowbackThursday #UWRHistory
---
11th: During a recent visit to the Refuge, Dave Sauder, one of our Trustees, took these photos of a muskrat lodge far out in the wetlands known as Miller pond.
---
7th: We never get tired of seeing the artwork of Hope Sawyer Buyukmihci, our co-founder. This is another of her hundreds of sketches from many years ago, illustrating her favorite, the beaver. She, of course, had reverence and respect for all wildlife and 'walked her talk' through many personal sacrifices.
#tbt #ThrowbackThursday #UWRHistory
---
4th: This great egret perched serenely on a branch rising out of the main pond. A moment later, he or she was preening, a never ending 'job' for birds.
---
May 2018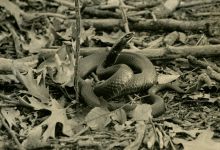 31st: Throwback to this photo of a black snake taken in 1966 by Hope Sawyer Buyukmihci, Refuge co-founder. Hope was not only an accomplished artist and author, her patience while observing wildlife, often despite swarms of deer flies or mosquitoes, allowed her to capture stunning images on film.
#tbt #ThrowbackThursday #UWRHistory #blacksnakes
---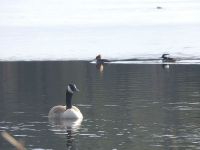 28th: This Canada goose swimming in the main pond seemed to be interested in the fuss we made getting this picture. A hooded merganser couple in the background appeared to be trying to quickly get into or out of the frame.
---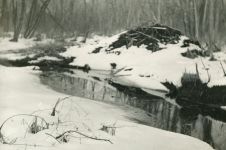 24th: Throwback to winter of 1966, in the early years of the Refuge, when Hope Sawyer Buyukmihci took this photo of one of the beaver lodges in the snow and ice. We remember fondly Hope's excitement when she and her husband Cavit Buyukmihci, saw evidence of beavers on the original 80 acres of habitat that began the Refuge.
#tbt #ThrowbackThursday #UWRHistory #beavers
---
21st: As summer approaches and we leave the snow and cold weather behind us for another season, it is good to remember that the snow often reveals the presence of individuals we may never see. We are not sure who made these tracks on this fallen tree, but are grateful to Mike McCormick for sharing this photo with us.
---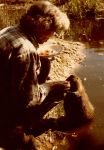 17th: Throwback to October of 1974, when Bee Simpson took this photo of Hope Sawyer Buyukmihci, Refuge co-founder, providing nourishment to Chopper, an orphaned beaver. Chopper's sad story, which can be found on our Web site (under the section Beavers), is a reminder that we need to consider carefully how we deal with orphaned wild animals and what 'befriending' them may mean for their future.
#tbt #ThrowbackThursday #UWRHistory #beavers
---
16th: As some of you may know, beavers are classified as a keystone species. A new study that has just been accepted for publication emphasizes the universally beneficial aspect of beavers to the environment and other animals (including human beings). You can access this article, by Alan Puttock et al, on our beaver literature page.
---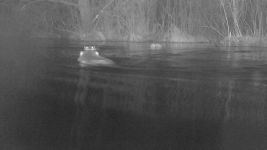 14th: One of our trail cameras took this photo of two beavers meeting in the water.
---
10th: As many of you may know, Hope Sawyer Buyukmihci, our co-founder, was a naturalist and talented writer and artist. This is one of her hundreds of sketches from many years ago. Although beavers were her favorite animal to sketch, bats, like this one, and other species made up her portfolio.
#tbt #ThrowbackThursday #UWRHistory
---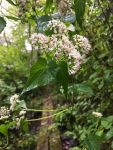 7th: Some lovely, delicate English ivy flowers just before last winter set in. Thanks to Eric Baratta and Susan Schoeler McKenna for help in identifying this plant.
---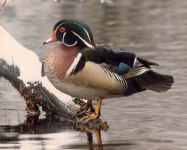 3rd: Throwback to... well, we do not really know when because we cannot find a date nor photographer for this striking image of a wood duck standing on a stump in the main pond. We hope you will enjoy anyway.
#tbt #ThrowbackThursday #UWRHistory
---
April 2018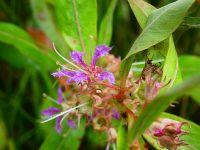 30th: The Refuge is home to numerous species of flowering plants, like this swamp loosestrife.
---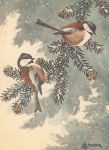 26th: Edmund J. Sawyer was a renowned naturalist and artist who spent much of his life observing and making sketches and portraits of the wildlife he encountered. He was also the father of Hope Sawyer Buyukmihci, the co-founder of Unexpected Wildlife Refuge, and inspired her to become a naturalist and artist in her own right. Although Edmund died many years ago, he did get a chance to visit the Refuge to see the wonderful work his daughter was doing. We will pay tribute to this remarkable and talented man by occasionally sharing some of his artwork with you, like this lovely watercolor of chickadees.
#tbt #ThrowbackThursday #UWRHistory
---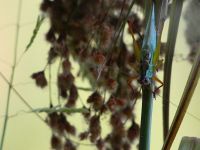 23rd: With spring here and summer not far away, we expect to see an abundant resurgence of insects such as this grasshopper perched on wool grass.
---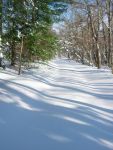 19th: Throwback to this 2009 photo showing our access lane after a snow fall that blanketed the Refuge. Although it was beautiful to behold back then, we - and the wildlife? - are looking forward to no snow for at least the next many months.
#tbt #ThrowbackThursday #UWRHistory
---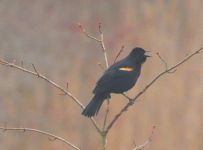 16th: We thought you might enjoy seeing this male red-winged blackbird, singing in pursuit of a mate.
---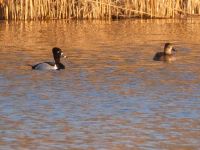 12th: Our first thought was that these individuals were lesser scaups, but a pair of binoculars showed them to be ring-necked ducks. Although not a rare species, this may be only the second time they have been spotted at the Refuge in several years. Ring-necked ducks generally breed farther north, mostly in Canada. Their visit was apparently just a stopover on their way to breeding areas and they were gone after several days.
---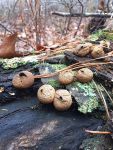 9th: We came across these puffball mushrooms on a log by the edge of the swamp on the boundary trail.
---
7th: A yellow-rumped warbler perches in a tree close to the Refuge trailheads.
---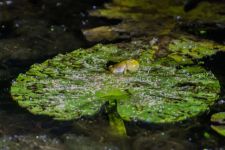 5th: Throwback to this 2016 photo of a northern cricket frog singing from a lily pad, late at night, on the main pond. It was taken by Cliff Compton, Refuge guest and photographer.
#tbt #ThrowbackThursday #UWRHistory
---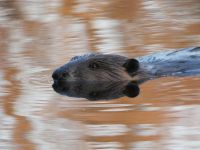 4th: Our manager was able to get a nice close-up of this beaver swimming in the main pond. The rust-colored appearance of the water was due to light reflection near sunset.
---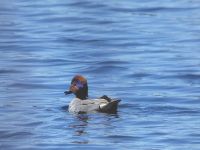 2nd: A rare visitor to the Refuge, a male green-winged teal was seen swimming in the main pond.
---
March 2018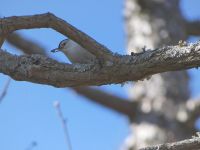 31st: This white-breasted nuthatch had just cracked open a nut in a tree along the trails at the Refuge.
---
24th: A juvenile bald eagle sits ruffled by strong winds on a branch partially submerged in the main pond.
---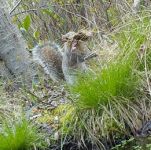 22nd: Throwback to spring of 2017 for one of our favorite trail camera images. A squirrel gathers soft grasses for nesting materials near one of the wetlands.
#tbt #ThrowbackThursday #UWRHistory
---
21st: A drop of rain clings to the fruiting body of a small translucent amber jelly fungus known as wood ear, tree ear or jelly ear as well as other colloquial names.
---
20th: We are seeking a new manager. If you or someone you know is interested in rewarding and challenging service to wildlife, please send the following by E-mail only, to Nedim C. Buyukmihci, president, ned.trustee@unexpectedwildliferefuge.org: 1) letter explaining why you would be the ideal candidate; 2) full curriculum vitae (an expanded résumé); and 3) at least three references, one of whom must provide a critical assessment of your abilities. Click here for a full job description.
---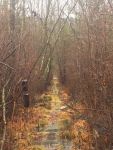 19th: A thin fog hangs at the end of the walkway through one of the wetlands at the Refuge after a recent rain.
---
17th: There are a multitude of lichens at the Refuge. We think this might be the species known as the brown-eyed rim.
---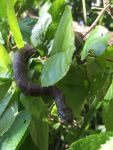 15th: Throwback to this 2016 photo of a northern water snake on the trail along the main pond.
#tbt #ThrowbackThursday #UWRHistory
---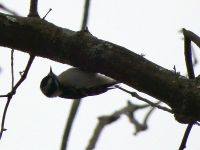 14th: A downy woodpecker along the trails near the white cedar swamp at the Refuge.
---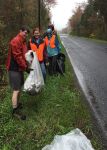 8th: Throwback to our 2016 annual Earth Day Cleanup event at the Refuge. It rained all day, but our volunteers made the best of it! Join us this year on April 14 at 11:00 AM. E-mail us at manager@unexpectedwildliferefuge.org for more information and to confirm you will be able to attend or call 856.697.3541. – VVH
#tbt #ThrowbackThursday #UWRHistory #EarthDay
---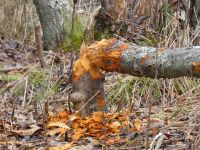 7th: This tree located on one of the tiny islands of earth in the wetlands was found cut down during a recent warm day. We know this was the work of at least one beaver, 'harvesting' food. Whether he or she had help is speculation. Maybe some day we will be lucky enough to get video footage to share. – VVH
---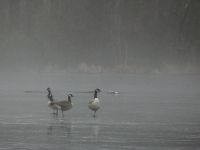 5th: These Canada geese were standing on the frozen surface of the main pond in early morning fog. Two of the geese were holding a foot close to their bodies, protected by lower plumage. An alternating pattern of lifting feet up to the body is a method many birds use to warm their extremities. – VVH
---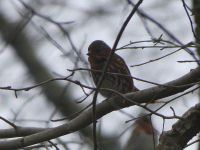 3rd: A fox sparrow in a tall tree along one of the Refuge trails. She tilted her head in response to the click of the camera shutter. – VVH
---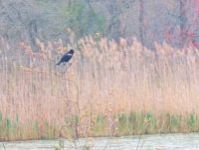 1st: Throwback to 2016 and this photo of a red-winged blackbird exercising his vocal abilities. – VVH
#tbt #ThrowbackThursday #UWRHistory
---
February 2018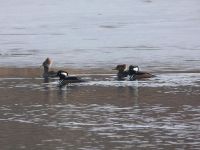 28th: Two hooded merganser couples paddle companionably in the main pond at the Refuge. – VVH
---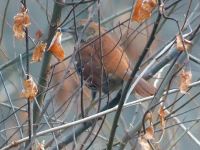 26th: Brown thrashers are difficult to photograph. They are shy and spend most of their time in dense cover. A species of "special concern", their numbers have declined over the years due to habitat loss, making this sighting particularly delightful. – VVH
---
24th: A selection of beautiful photographs taken at the Refuge by Jeff Hrusko, who volunteered during the final weekend of our 2017-2018 deer patrol season. One shows the beaver lodges in the main pond, another the pond as it appears through shoreline reeds and the third a dead pine trunk which makes a wonderful home for many of the creatures (and plants) who live at the Refuge. – VVH
---
22nd: Throwback to this fortuitously well-framed photo of a wood duck taken by one of the Refuge trail cameras last year. – VVH
#tbt #ThrowbackThursday #UWRHistory
---
21st: Some reindeer lichen covered with the icy remains of a recent, light snowfall. It is sometimes misleadingly referred to as reindeer moss. – VVH
---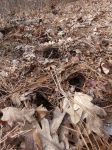 19th: The holes amongst the pine needles and other leaves are from a gray squirrel digging up acorns and other food. Whether the same squirrel hid the 'treasure' in the first place is open to speculation. – VVH
---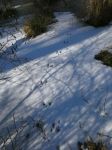 17th: Often, our only awareness of the presence of some Refuge residents is right after a snowfall. Here, a rabbit has made her or his way across the snow. – VVH
---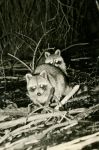 16th: As you may recall, we learned that Amazon cares more about profit than it does about treating non-human animals humanely. We warned Amazon that we would close our account unless they had a change in policy and stopped selling live animals through the mail as if they were a pair of socks. Amazon refused to listen to us and many others, even those who were experts on animal welfare. As a result we closed our account and will not accept any donations of items purchased from them.

We are sharing with you our current wish list in case you can help us with these items. Click here to see the list and how to send the items to us. Our only caveat is that you not purchase any from Amazon or from any business which similarly is more interested in money than morals. Questions? Please E-mail us at manager@unexpectedwildliferefuge.org or telephone us at 856.697.3541. – VVH
---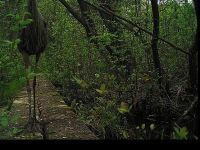 15th: Throwback to a photo of this long-legged visitor to a trail camera on the boardwalks at the Refuge. – VVH
#tbt #ThrowbackThursday #UWRHistory #greatblueheron
---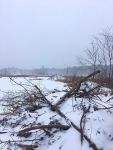 14th: During a recent stretch of below-freezing days, I was able for the first time to walk across the frozen main pond to examine the beaver lodges up-close. In the second photo, you can see a ruffled shelf fungus attached to one of the boughs the beavers used for home fortification. – VVH
---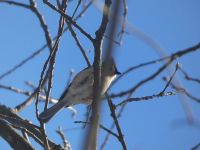 12th: A tufted titmouse sitting high in a tree at the Refuge during a bright, cloudless day. – VVH
---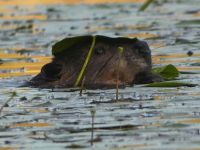 11th: Two anti-wildlife bills will be up for a vote before New Jersey's legislators soon. The hearings on both bills will be held on Monday, 12 February. The bills could go for a vote as early as Thursday, 15 February.

The first bill is A3242, the Poaching Bill. It would allow the killing of deer as part of forest 'stewardship' and on commercially logged lands. Bait piles could be used at any time of day or night and deer could be killed from vehicles including at night through the use of strong lights to immobilize them.

The second bill is A2731, the Beaver Bill. This would eliminate the 20-animals-per-permit trapping limit and expand the use of body-crushing (Conibear) traps. Many of the animals caught in these traps die a prolonged, agonizing death.

Please write NOW to your Assemblypersons and politely express your outrage concerning these bills. Use the following Web site to find your representative and contact information: http://www.njleg.state.nj.us/members/legsearch.asp. Please also contact Assembly Speaker Craig J. Coughlin at 732.855.7441 or via his contact information on his Web page: http://www.njleg.state.nj.us/members/BIO.asp?Leg=319. Tell him of your opposition to these bills.

For more information, please visit the following link: http://campaign.r20.constantcontact.com/render?ca=94aacd4a-4706-4264-b5ed-e1f9693eeba2&preview=true&m=1112167101597&id=preview. – VVH
---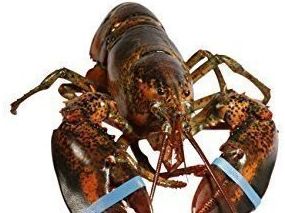 10th: URGENT UPDATE: I have been in contact with senior representatives at Amazon. Unfortunately, Amazon is refusing to listen to experts who are telling them that shipping live lobsters through the mail is inhumane. Instead, they are obstinately defending this immoral practice by claiming that they are not in violation of the law, as if that was the issue. They are clearly more interested in the (minimal) profits made through the abuse of animals than they are in being compassionate and humane.

As a result, we have closed our account with Amazon and will no longer do business with them. Nor will we accept any donated items purchased through them. I am urging you to help us in this matter by doing the following, if you have not already done so:
Write to Amazon at jeff@amazon.com, and voice your strong objection to their selling of live animals and tell them you will boycott them until they stop.
If you have an account with Amazon, please close it and explain why.
Write to Drogo Montagu at wholesale@finefoodspecialist.co.uk and let him know that lobsters are able to feel pain and suffer and that his actions and callousness in selling live lobsters through the mail (using Amazon) have caused you to boycott Amazon in general. Be sure to copy your message to Jeff Bezos, Amazon CEO, at jeff@amazon.com.
– NCB
---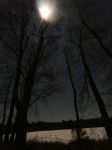 9th: A frozen, snow-covered main pond at night under a waxing moon. Note the pinpoint lights from some stars in the dark sky. – VVH
---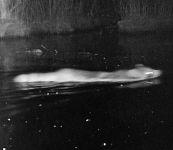 8th: Throwback to May 2017 and one of my favorite "unexpected" trail camera images -- a raccoon swimming gracefully at the Refuge late one night. – VVH
#tbt #ThrowbackThursday #UWRHistory #raccoons
---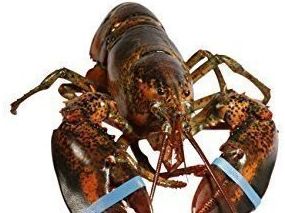 5th: URGENT: This is a follow up to our post on why we are boycotting Amazon.com and asking you to do so, too. At least in the UK, the provider of the live lobsters Amazon is shipping (or allowing to be shipped under their name) is Fine Food Specialist in London. In defense of this despicable practice, the founder, Drogo Montagu, is quoted in the Times (4 Feb 2018) as stating there is no evidence that lobsters feel pain. This is biological nonsense. There is now ample evidence to prove that lobsters and other crustaceans not only can feel pain in ways similar to mammals, they can also suffer (which goes beyond just the ability to feel pain). We will be glad to provide you with copies of the scientific literature as evidence.

We are asking you to write to Mr Montagu (wholesale@finefoodspecialist.co.uk) and set him straight on the issue of lobsters being able to feel pain and suffer and that his actions and callousness have caused you to boycott Amazon in general. Ask him to stop selling live lobsters, especially through the mail. Be sure to copy your message to Jeff Bezos, Amazon CEO, at jeff@amazon.com. – NCB
---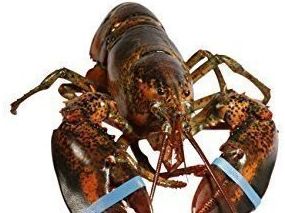 4th: We just learned that Amazon is selling live lobsters through the mail! As a result, we are not going to use their services until they put a stop to this despicable practice. We ask that you WRITE Amazon, now, at jeff@amazon.com, and voice your strong objection to their selling of live animals and tell them you will boycott them until they stop. – NCB
---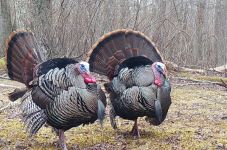 3rd: Refuge Amazon Wish List updated!
Please consider supporting the Refuge with one of the much-needed items from our Amazon Wish List at http://a.co/3Nlqind. – VVH
---
1st: Throwback to 1965 for this photo of Hope Sawyer Buyukmihci doing what she liked best, spending time studying the natural world around her. For those of you who are not aware, Hope and her husband, Cavit (pronounced like 'javit' with a soft 'a') Buyukmihci, founded the Refuge through donating their home and land in 1961. – VVH
#tbt #ThrowbackThursday #UWRHistory
---
January 2018
31st: A juvenile bald eagle soars high above the Refuge on a cloudless day. – VVH
---
30th: We have a new color leaflet summarizing what the Refuge is. We plan to use it at various events we sponsor or attend. You can help us by downloading, printing and distributing the leaflet elsewhere. The leaflet fits on a legal size sheet of paper (8.5 x 14 inches or 216 x 356 mm), printed double-sided in landscape orientation and folded twice so that the panel with our name in green is at front. Click here to see and obtain the file (about 2 MB). – NCB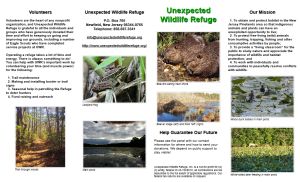 ---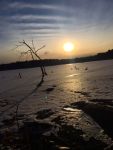 29th: The main pond with snow covering its frozen surface, at sunset, looking somewhat like a desert landscape. – VVH
---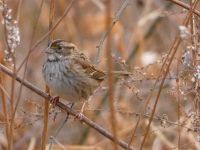 27th: A white-throated sparrow perches on a branch next to the Refuge trails. – VVH
---
25th: Throwback to this sunset photo taken on the boundary trail in December of 2015. – VVH
#tbt #ThrowbackThursday #UWRhistory
---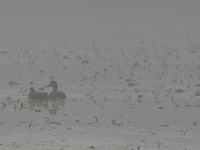 24th: Two American black ducks swim in the main pond through a thick, early morning fog that hung over the Refuge. – VVH
---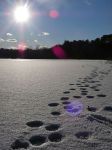 22nd: One or more Refuge residents took a long walk across the snow-covered and frozen main pond one evening or early morning. The tracks started at a trail head and ended on the opposite end of the pond. Notice the lens flare caused by the bright sunlight in one of the photos. – VVH
---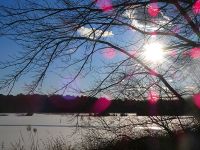 20th: The main pond, surface frozen, at sunset one recent evening at the Refuge. The brightness of the sun created a stunning pink-purple lens flare. – VVH
---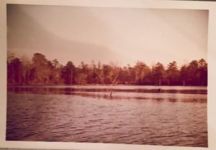 18th: Throwback to the Refuge as it was in 1971. Nancy Jonap, a long-time friend of the Refuge, was kind enough to share these photos with us from her time here more than 40 years ago. The main pond and a visitor walking the boardwalks are pictured. – VVH
#tbt #ThrowbackThursday #UWRHistory
---
17th: For your enjoyment, here are some of the beautiful photos taken by Mike McCormick, founder of South Jersey Trails, during one of his visits to the Refuge in December 2017. – VVH
---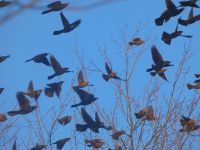 13th: I was fortunate to have a camera with me when a flock of grackles, red-winged blackbirds and a few starlings entered the sky above the Refuge. The birds took a full minute to pass by me and many landed in neighboring trees. – VVH
---
11th: Throwback to this beautiful image of dogwood trees in bloom at the Refuge. This photo was taken in the spring of 2017 by Mike McCormick, founder of South Jersey Trails, a local New Jersey hiking group. – VVH
#tbt #ThrowbackThursday #UWRHistory #SouthJerseyTrails #warmerdays
---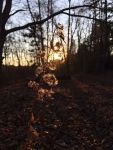 10th: A sprig of goldenrod backlit by the setting sun on the trails at the Refuge. – VVH
---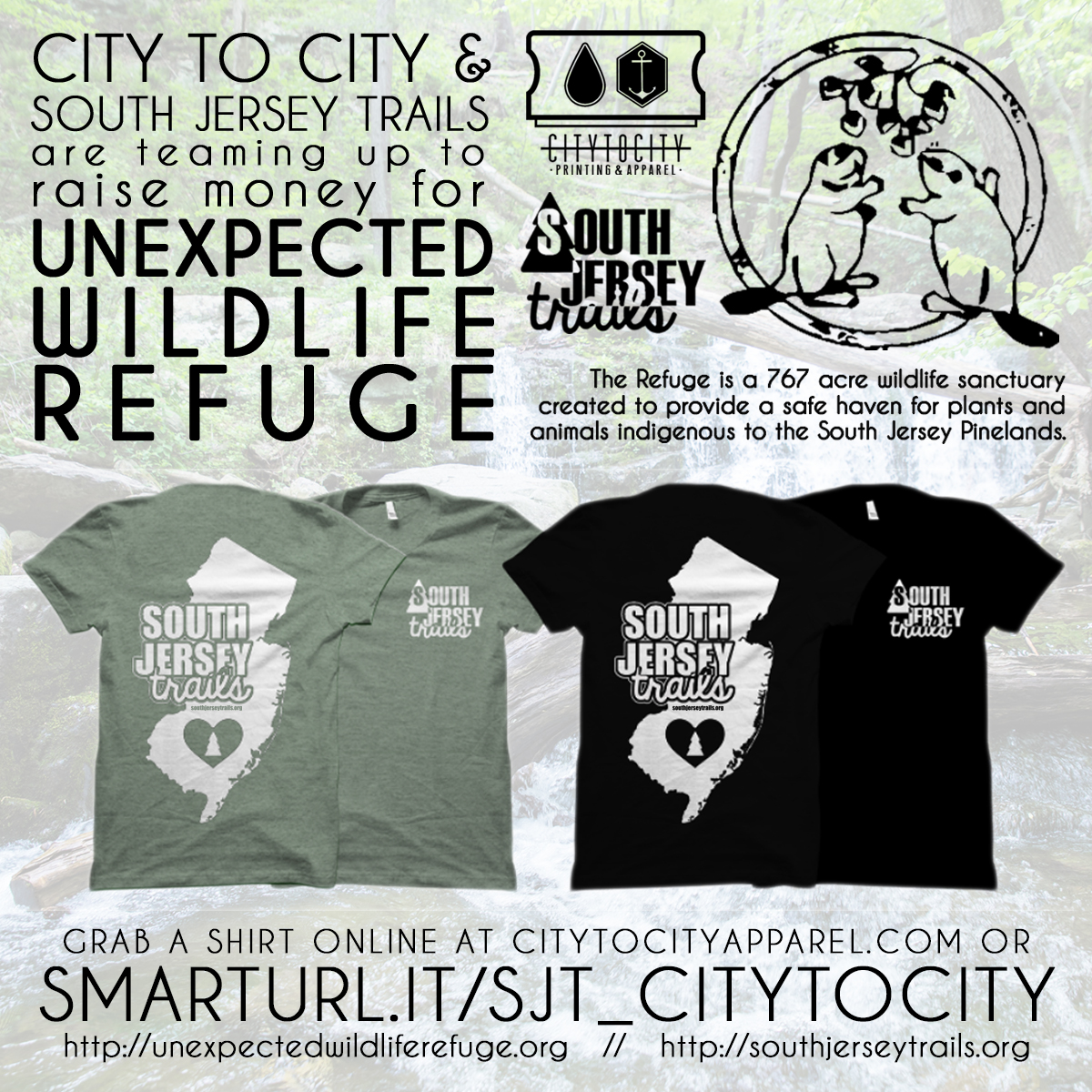 9th: For those of you who are hiking enthusiasts, South Jersey Trails are raising funds for our Refuge through the sale of their T-shirts. If you already have enough Refuge T-shirts and want something a bit different, while still supporting us, you can go to South Jersey Trails' fund raising site. Be aware that shirts must be pre-ordered before the end of January and take 1-2 weeks for shipment. – VVH
---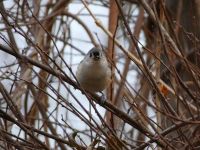 8th: A tufted titmouse perches in a tree next to the trailheads on a cold day at the Refuge. Tufted titmice are among the few species of birds who store food for the winter months. – VVH
---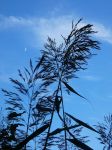 6th: A crescent moon over the reeds at the Refuge. – VVH
---

4th: Throwback to this serene panorama of the main pond at sunset taken two years ago by Cliff Compton, Refuge guest and photographer. – VVH
#tbt #ThrowbackThursday #UWRHistory
---
3rd: Fog hangs over the frost-covered flora surrounding the main pond. – VVH
---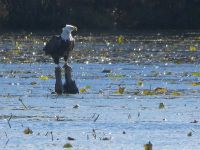 1st: A bald eagle perches astride two forks of an old log in the middle of the main pond. – VVH
---
RSS services:
Blogging Fusion Blog Directory
Feed Shark
R-bloggers.com
RSS-Dir.com
RSS Feed Directory - Search and read RSS Feeds without any RSS reader